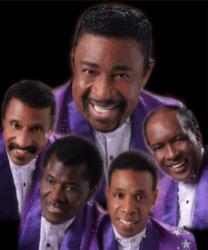 New York, NY (PRWEB) December 28, 2011
This Valentine's weekend 2012, 98.7 KISS FM in association with Marquee Concerts and North American Entertainment Group, presents a line-up of five of the hottest super-groups for the "70′s Soul Jam Valentine's Concert" on Saturday, February 11, 2012 at the Beacon Theatre. Fans of classic soul, R&B, "Soul Train" and the memorable hits of the '70s won't want to miss this one day only event featuring two shows at 3pm and 8pm. On the bill: The Stylistics, The Temptations Review featuring Dennis Edwards, The Delfonics, Main Ingredient featuring Cuba Gooding, and Enchantment.
The re-emergence of Soul/R&B groups was described in the LA Examiner as "evenings packed with much-loved hits that get the crowd moving" and the audience "singing along to every word." Notes Bill Zafiros, co-founder of Marquee Concerts, This years 70′s Soul Jam Valentine's Concert brings some of the finest acts of the period. Its sure to spark fond memories and be an amazing night for fans who first enjoyed the Soul and R&B genres decades ago."
Philly soul favorite THE STYLISTICS will kick off the show. This enduring group enjoyed twelve straight Top 10 hits from 1971-1974, including You Are Everything, Break Up to Make Up, and You Make Me Feel Brand New.
THE TEMPTATIONS REVIEW features Dennis Edwards, the first new Temptation to join the group after their "Classic 5″ days, replacing David Ruffin as lead singer. During his tenure with the group Cloud 9 and Papa Was a Rollin Stone won Grammys.
THE DELFONICS, Known for their sleek, soulful Philadelphia sound, this trio has been performing for nearly 40 years. Their first chart topper, La La Means I Love You, was released in 1968, followed by hit singles including You Get Yours, Ill Get Mine, Im Sorry, and Ready of Not. In 1971, the group received a Grammy for the single Didn't I.
Paced by the impassioned lead vocals of Cuba Gooding during their prime hit-making years, the MAIN INGREDIENT, best known for the 1972 classic Everybody Plays the Fool, released many other fine singles in the early 70s. Founded in Harlem in 1964 as the Poets (with a different line up), they later became the Insiders, and permanently became the Main Ingredient in 1966
Rounding out the impressive bill is Detroits ENCHANTMENT whose 1976 debut album "Enchantment" scored two Number 1 R&B hits, Sunshine and Gloria. It's You that I Need was their third consecutive #1 hit, and their single Once Upon a Dream was certified Gold.
The Beacon Theatre is located at 2124 Broadway at 74th Street in New York City. Tickets for the Saturday, February 11, 2012 shows at 3pm and 8pm are $ 49.50, $ 69.50, and $ 79.50.
For tickets and information, visit http://www.MarqueeConcerts.com or http://www.Ticketmaster.com. To purchase tickets by phone, call 866-858-0008.
About 98.7 KISS FM

98.7 KISS FM (WRKS FM), the Best Variety of 80s, 90s and Todays R&B, has been serving the tri-state area of New York, New Jersey and Connecticut for 30 years. KISS FM is the home of the nationally syndicated shows, The Tom Joyner Morning Show and The Michael Baisden Show and is New Yorks premier source for legendary and contemporary R&B music and culture. For more information on 98.7 KISS FM, please visit http://www.987KISSFM.com.
About Marquee Concerts

Marquee Concerts, one of the premier concert promoters in the Northeast, produces hundreds of events across all spectrums and genres. Marquee is constantly researching new music trends, recognizing today's up-and-coming entertainers, and expanding upon existing business relationships to put on the best shows possible and remain a competitive mainstay in the concert promoters industry. Learn more at http://www.marqueeconcerts.com.
About North American Entertainment Group Inc.

North American Entertainment Group is one of the largest independent promoters of entertainment tours and live events in the US. With over 25 years in the industry and an extensive history in venue management, NAEG has consistently delivered the hottest concerts, comedy shows and theatrical entertainment to venues in over one hundred markets. Additionally, NAEG has produced TV specials, concert DVDs, online content and branded merchandise. A company distinguished by creativity in tour packaging and marketing strategy, NAEG's success resounds in the memories of those who have attended their events. Learn more at http://www.northamericanent.com.
###